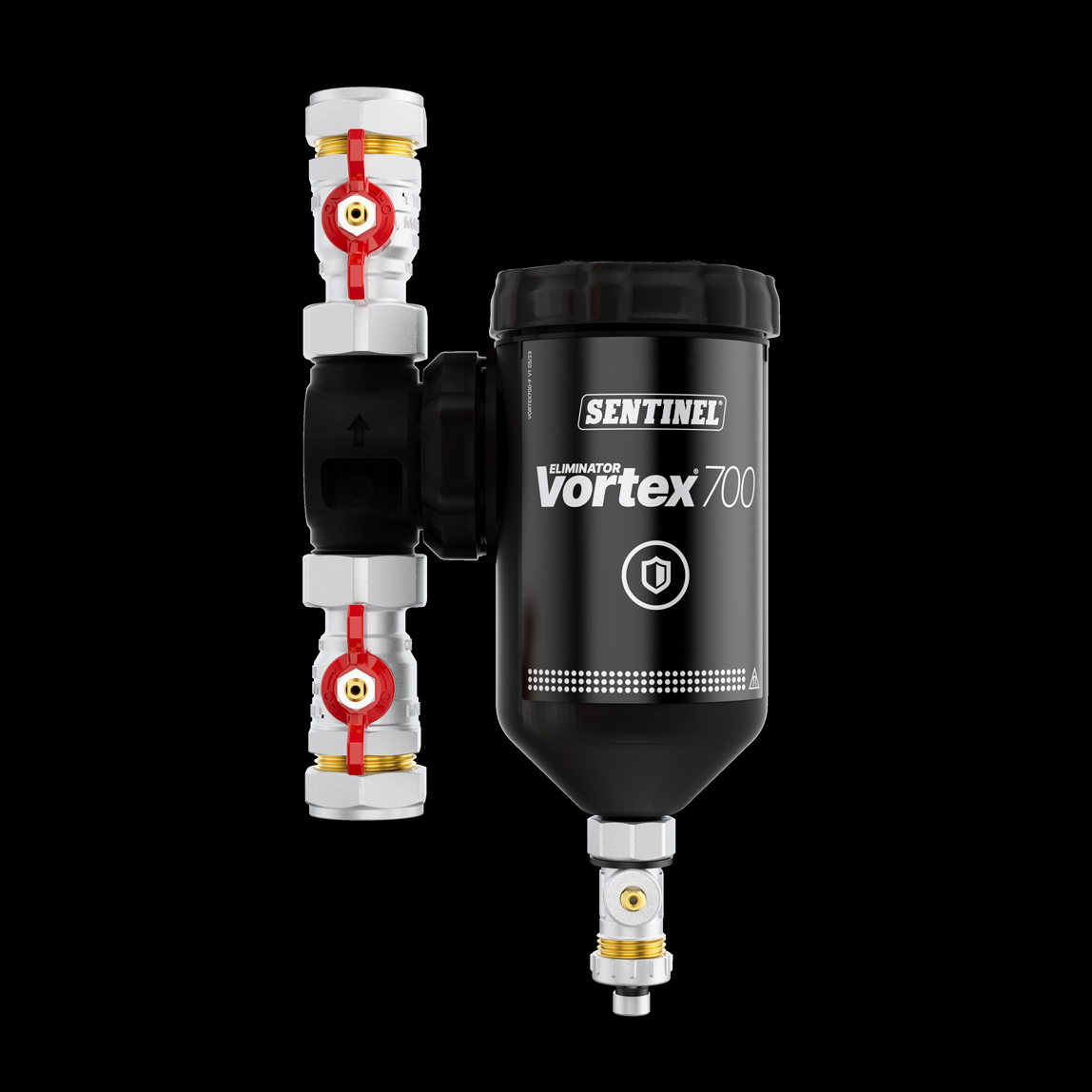 Sentinel has extended its range of Vortex filters by launching the Vortex700, a specialist filter for heat pump systems.
Based on tried and tested technology, the Vortex700's dual action has a strong magnet that captures magnetic ferrous particles and a high-capacity 800 micron sieve that filters non-magnetic debris out of the system, to ensure optimum system efficiency and service life.
Heat pump systems differ from traditional boiler systems because they run at lower temperatures. The usual magnetic sludge (magnetite) that occurs if radiators are present, and the non-magnetic debris from installation, such as sand, filings etc, and limescale in hard water areas, will still accumulate in the system water. In addition, organic material, such as algae, biofilms etc, can build up in heat pump systems, such as underfloor heating or low temperature radiators, because they typically run at less than 60˚ Celsius.
Debris accumulating and settling in the system may cause cold spots in radiators and heating loops, reducing its heating efficiency and comfort in the home. This can lead to increased fuel consumption when the householder turns the system up to achieve the required temperatures. Over time, circulating debris may cause pinholes and leaks, and corrosion that leads to failure of pumps and heat exchangers.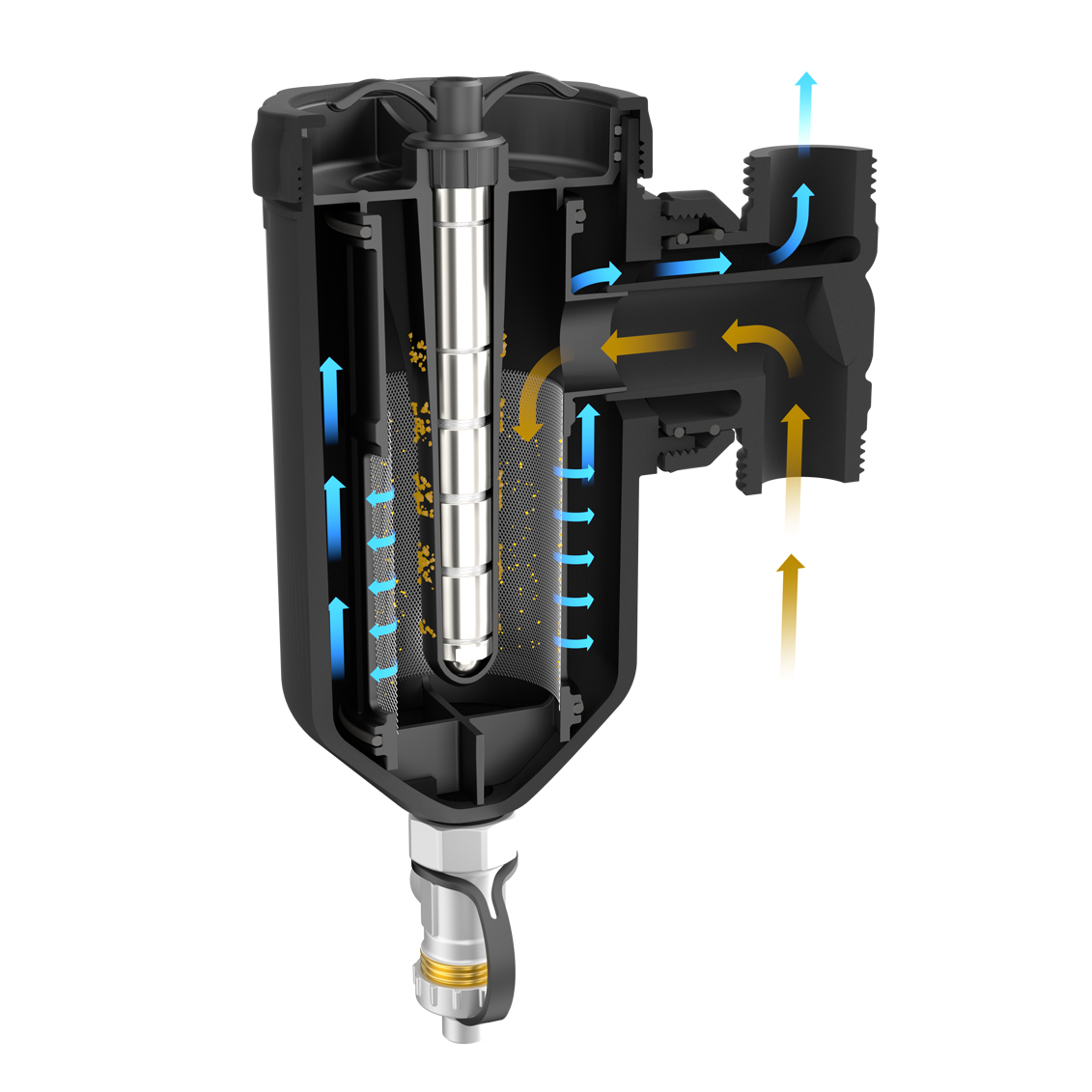 The Vortex700 filter is installed on the return to the heat pump with minimum clearance required for flushing, to protect installed equipment against all types of circulating fragments. It contains four powerful neodymium magnets that combine to create a 9000 gauss magnetic field that captures and retains circulating magnetic particles. One hundred per cent of the system flow is filtered through a large capacity 800-micron sieve filtration chamber, which removes circulating non-magnetic debris.
The collected debris can be simply flushed away by removing the magnet from its sleeve and opening the tamper-proof flush valve at the base of the unit. If required, the sieve can be removed and cleaned with a soft brush during an annual service.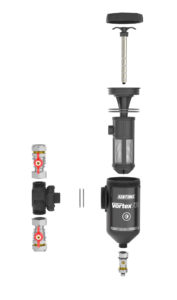 The dedicated heat pump filter is quick and easy to install on mono-block or split systems. It is supplied with two isolation valves, dual seals and an 360° adjustable T-piece with quality brass valves, so it can be installed on pipework of any orientation. Robustly constructed out of reinforced polymer which is suitable for use with the high glycol content system water in heat pump systems, it has a 10-year guarantee.
Ian Watkinson, Chief Technology Officer at Sentinel, explained: "An independent testing house has carried out tests to measure 'first pass capture of magnetic debris' on our new heat pump filter and it has consistently performed better than its closest competitors in the market. We have really put this filter through its paces — we subjected it to five-year accelerated lifecycle testing at 95 degrees Celsius, and static pressure to 10 Bar.
"With the heat pump market burgeoning, it's really important that people's heating systems run as efficiently as possible, so these filters are manufactured in the UK under automotive-quality standards and we carry out 100% end-of-line pressure testing on finished filters.
"We take great pride in the quality of everything we manufacture and we have applied the same best practice approach to this important new product."
For more information, please visit https://www.sentinelprotects.com/uk/product/sentinel-eliminator-vortexr-700-3