Paul Munnion, Managing Director at the Mould Growth Consultants, discusses the problems associated with condensation and how MGC can help social housing providers tackle the scourge of damp and mould.
'My walls are damp', 'my ceiling is damp', there are not many Maintenance Managers, Housing Managers and Surveyors across the Country who have not heard this complaint from tenants in the "condensation season" from October to April. However, it is not damp in the truest sense — there are, in fact, 14 different varieties of damp, ranging through from rising damp, penetrating damp, bursts, leaks, spillages to condensation, 80-85% of the complaints of damp are complaints of condensation which result in black mould growing on the walls and ceilings, only 15-20% are true damp problems.
Black mould problems are a favourite topic for the Local Press and this year have attracted the attention of ITV News investigators and national newspapers which is not very good publicity for certain local authorities and housing associations.
It is easy to underestimate the potential damage and harm that unchecked condensation causes until it leads to black mould — the internal fabric of the building starts to deteriorate and tenants' health becomes affected. The causes of condensation are easy to identify: poorly insulated walls, inadequate heating and ventilation, high production of steam and water vapour — such as constant stove-top cooking, or drying laundry on radiators or in a kitchen or bathroom without an open window or an efficient extractor. Also, washing machines and tumble dryers installed without external vents.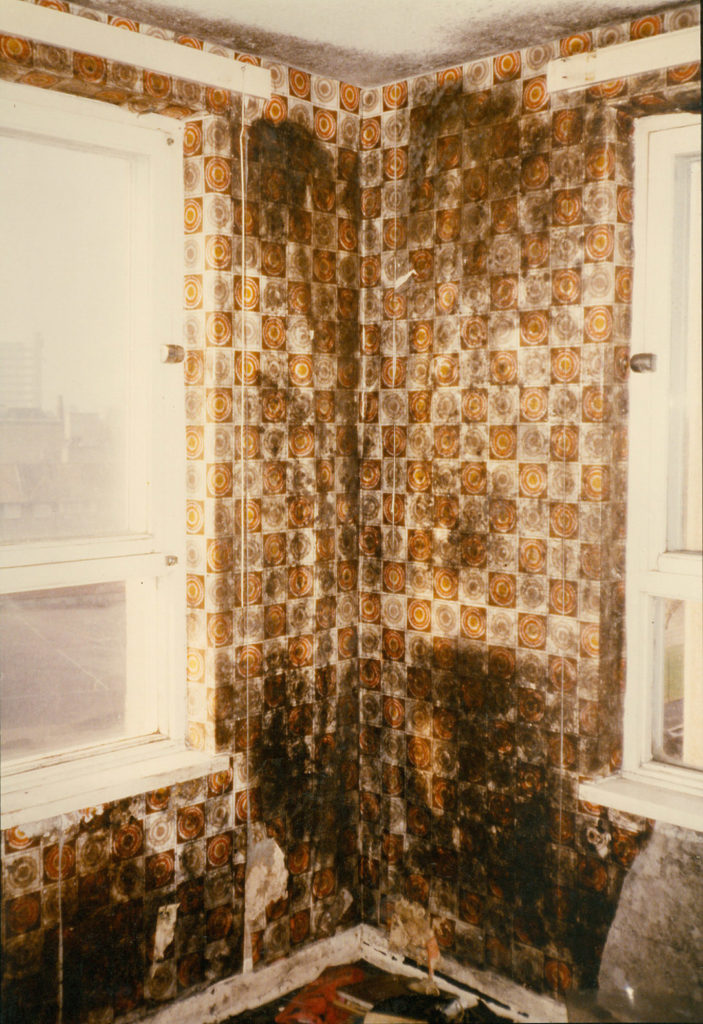 Regrettably, there are substantial numbers of people who reside in hard-to-heat homes or are fuel poor and, therefore, unable to heat the property to a habitable level. Recent fuel price and cost of living increases have pushed more people into fuel poverty and, in these situations, condensation and mould problems are inevitable.
Contributory factors
The incidence of condensation has increased tenfold in the past decade and is attributable to a number of  factors. The increase started back in the 1970s and 80s with the modernisation of houses, installing inside toilets, new bathrooms, removal of sash windows, open fires, chimneys and the installation of central heating.
With the demand for housing in the 60s, councils and housing associations were forced to opt for high-density housing, blocks of high-rise and low-rise flats utilising concrete as the main building component. In addition to being very cold and costly to heat there were additional problems of cold bridging from cantilever beams and ring beams. Energy conservation works with the installation of double glazed windows, loft insulation, cavity fill and draught excluders effectively reduced ventilation and dramatically increased the occurrence of condensation.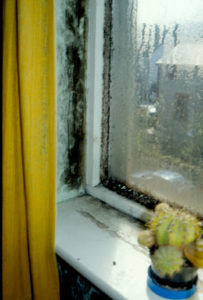 Condensation is frequently found in homes where both parents work and where cooking, washing and bathing is concentrated into a short period in the evenings. Moisture is created before the fabric of the building has had time to warm up and condenses on the cold surfaces.
Dwellings with large numbers of inhabitants will also fall prey to condensation simply through the number of occupants. A typical family — washing, cleaning and cooking — can produce up to 25 pints of moisture a day — this has to go somewhere and, where it comes into contact with any cold surfaces such as walls, ceilings and windows, condensation will form which will trigger the mould to germinate and grow.
Mould growth
Mould is not only ugly, it causes untold misery to tenants with black growths covering their walls and ceilings, clothes and furnishings being contaminated and their health at serious risk from the airborne spores, as well as unpleasant musty smells pervading throughout the property.
The health risk of living in properties contaminated with mould should not be underestimated. Mould spores will cause a wide range of upper respiratory complaints, including asthma, bronchitis, nausea, malaise and food poisoning. Furthermore, living in cold properties has additional and very serious risks to health and wellbeing, ranging from cardiovascular disease through to hypothermia in extreme conditions.
Health hazards
Under the Housing Health and Safety Rating System (HHSRS) mould is a Category 1 hazard and the Homes (Fitness for Human Habitation) Act 2018 states, it is the responsibility of the landlord to resolve the problems. The Housing Ombudsman has now stated the problems of mould and condensation cannot be attributed to "lifestyle issues".
It is extremely unfortunate that it has taken the recent tragic death of a child due to mould, according to the coroner, for the problems of mould to be acknowledged and addressed with the seriousness they deserve.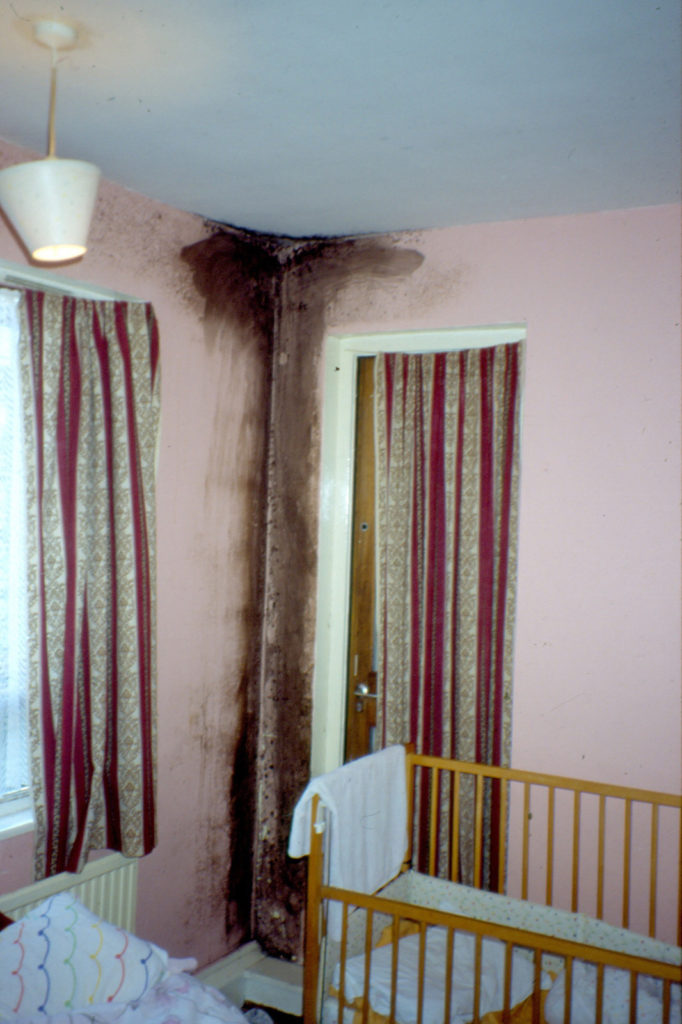 Every dwelling, irrespective of its construction contains within its fabric mould spores, which are dormant and completely harmless. However, given the right conditions these spores will germinate resulting in extensive growth of black disfiguring mould.
Mould needs very little nutrients and will grow on walls and ceilings irrespective of the decorative finish. Mould will start in corners, wall junctions and behind wardrobes, which are the areas where moisture is condensing. Mould grows in hyperbolic curves following the thermal contours of the wall, if it is not growing in these patterns then possibly the cause is something other than condensation.
Tackling the problem
MGC's mould treatments have been successfully used for over 56 years by local authorities, housing associations, private landlords and homeowners. All MGC mould treatments, fungicidal additives and fungicidal paints are approved under COPR, Control of Pesticides Regulations, 1986 (as amended) by the Health and Safety Executive and listed in M3 National Housing Federation Schedule of Rates for mould treatment.
In addition to the supply of products for the treatment of mould and condensation problems, MGC also provide seminars for local authorities and housing associations on Condensation, Damp and Mould Growth for housing and maintenance staff, toolbox training for works departments on the correct application of MGC materials and surveys of properties suffering with serious problems of mould growth.
For more information on MGC's solutions visit www.trade.mgcltd.co.uk/products/
More information on MGC's CPD seminars here https://www.trade.mgcltd.co.uk/free-cpd-seminars/