A planning application has been submitted to City of Edinburgh Council for the second phase of development at Trinity Academy, a secondary school set within the Victoria Park conservation area in the north of the city.
The project builds upon the award-winning phase one — a new-build sports and outdoor centre that serves the local community as well as Trinity's pupils — which opened in summer 2022.
Both phases were designed by Holmes Miller, who have a strong track record of designing Edinburgh schools such as Frogston, Canaan Lane and Victoria Primary Schools.
During consultations on the redevelopment, staff, pupils and community felt strongly that the school's original red sandstone Victorian building on Craighall Road, dating back to 1894, should be retained, refurbished and incorporated into the new design. If plans are approved, several newer existing school buildings which are no longer fit for purpose will be demolished to make way for a new four-storey extension to the historic building, which will offer modern learning facilities for the school's 1,200 pupils.
The school will remain open during the build and refurbishment process, with detailed plans in place for phasing and decanting to temporary accommodation on site, to minimise disruption to staff and pupils.
Inside the new extension, classroom accommodation will be arranged around a social and dining 'heart' which will provide a central point where the school can come together to socialise, learn and collaborate, fostering a sense of community and inclusion. A timber-clad 'learning stair' will also connect the school's main reception space to the 'heart'. The original Victorian building will link directly to this central space, bringing both buildings together.
Designed to meet Passivhaus standards, the extension will aim to reduce energy demand for space heating or cooling, driving down running costs and carbon emissions. It will also meet the Council's city-wide aspirations for the curriculum to be inclusive, and to meet all digital and outdoor learning requirements.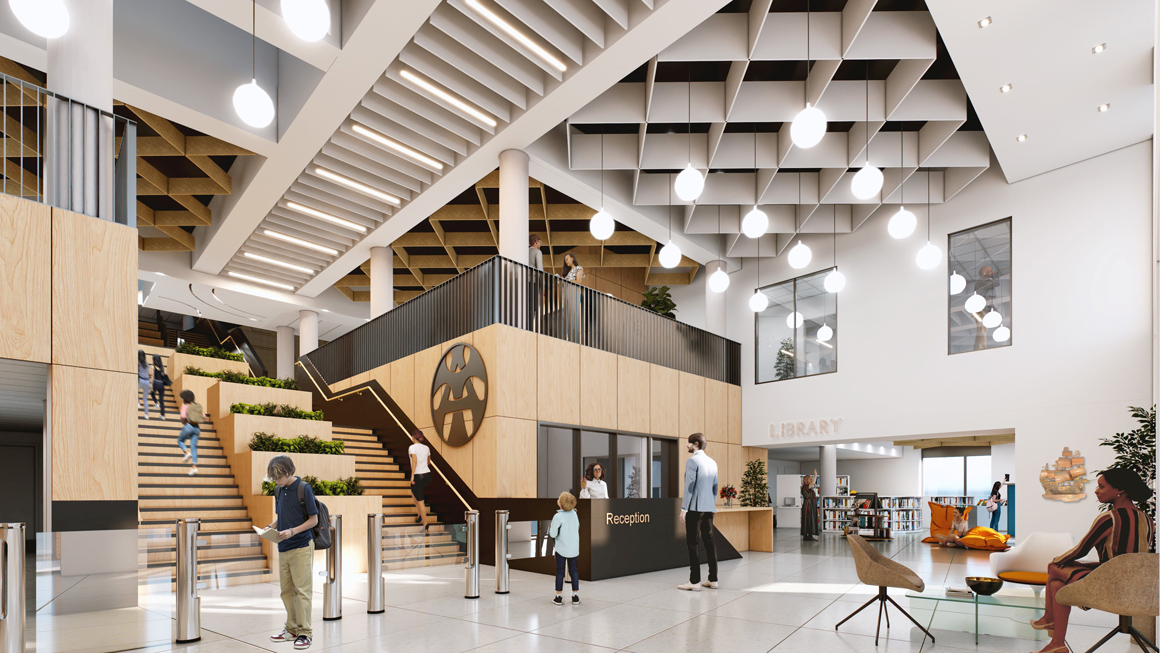 A carefully considered landscape plan for the school grounds will maximise potential for outdoor learning, encourage sustainability and open up opportunities to support local groups. Features will include an 'arrival plaza' with seating and social spaces, an outdoor amphitheatre, a growing space, an outdoor gym and a wellbeing hub garden.
The landscape design creates the opportunity for connections to Trinity Primary, creating a campus with the secondary school helping integrate both schools. The landscape also incorporates cycle storage and electric vehicle charging in both secure and public areas, encouraging active travel and the 20-Minute Neighbourhood.
Ryan Holmes, Director at Holmes Miller said: "City of Edinburgh Council asked us to create a design that would ensure Trinity Academy's facilities were fit for the 21st Century and that would provide an inspirational learning environment for pupils. Alongside the existing Victorian building, the new extension will do just that, while creating a strong civic presence that is sensitive to the surrounding Victoria Park conservation area. The combination of new extension and refurbishment of the existing building represents a significant investment in the community and promotes inclusive growth through key investment."
John Burns, Associate at Holmes Miller added: "Building on the successful completion of Trinity Academy's Sports Campus last year, these new plans offer a modern, exciting, and energy-efficient facility for pupils, staff and the wider community around Trinity. Building on this existing relationship with the school and community through ongoing engagement offers a unique opportunity to create a sense of place and new identity, which is an exciting prospect. All users of the building will benefit greatly from this next phase of redevelopment, which will create a school they can be proud of and will positively engage with."
Cllr Joan Griffiths, Education Convener for the City of Edinburgh Council, commented: "These are really exciting times for the Trinity Academy school community after the opening of their new sports and outdoor learning centre last year. The plans for the new extension, and refurbishment of the original Victorian red sandstone main school building, have been designed following consultation with the staff, pupils and local community.
"Another key feature of the new extension is the Passivhaus elements which significantly reduce the amount of energy used and support us in our goal of decarbonising our building stock. In August we opened our first fully Passivhaus classroom extension at Sciennes Primary School and construction work has already started on a replacement Currie High School which will be one of the first Passivhaus high schools in the country. These new buildings will significantly reduce heating costs, improve user comfort and the learning environment as we set the standard for how we build low carbon schools."
Design team:
Client: City of Edinburgh Council
Project Manager: Atkins Realis
MEP Engineers: Rybka
Structural Engineers: Etive
Landscape Architect: Wardell Armstrong
Passivhaus Advisor: Architype