A "once-in-a-generation" plan to tackle the North of England's housing crisis and provide more and better homes for the region has been revealed.
Homes for the North's blueprint will treble the number of houses being built and create billions of pounds of economic growth. The organisation — an alliance of the region's biggest housing associations — has published its Plan for More and Better Homes, which sets out how a new Government can turbocharge housing delivery across the country and provide real levelling up to some of the UK's poorest areas.
Exclusive polling also reveals that homebuilding is a key electoral issue for voters in marginal Northern constituencies, with seven in 10 swing voters saying the issue will shape their decision at the next election.
Turbocharged delivery
The scale of the housing shortage is undeniable, with research showing that the North of England needs two million new homes by 2050 to fulfil its economic potential, and 100,000 homes in need of significant upgrades or replacement or in the medium term.
Housebuilding in England alone is expected to fall far short of the Government's target of 300,000 new homes per year, and even to fall to just half of that level following changes to planning policy, at a time when new good quality homes are needed more than ever.
Barriers such as net additionality rules, funding gaps, multiple landowner negotiation challenges, and under-resourced local authority planning departments are holding up crucial home building projects.
In the North, of 80 regeneration projects slated to be delivered in partnership with housing associations over the long-term with public funding, only a quarter have secured the required funding in full, and over half have no public funding in place to enable their delivery.
This report sets out practical steps to build Northern capacity for economic growth and greater opportunity in all communities.
By taking a strategic approach to investing in local delivery partnerships, providing long-term certainty on rent and grant subsidy, and linking Local Plan-making to regional economic targets, the Plan will add £3.9bn of gross value added to the UK economy, deliver 42,920 homes, and regenerate 80 communities, which is enough to provide almost 59,000 people with a year's work.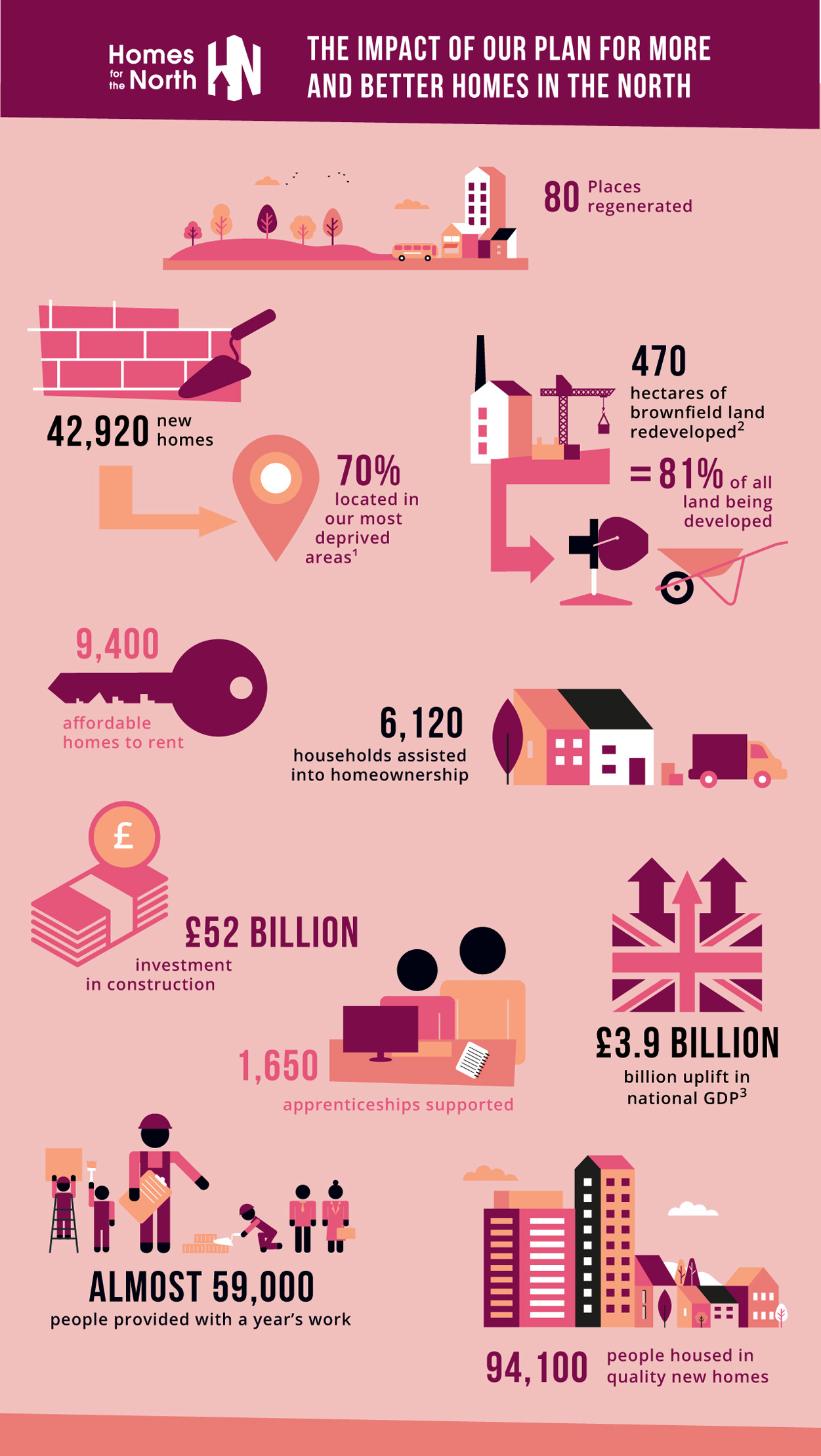 Homes for the North Chair Steve Coffey said: "Our Plan provides the first ever comprehensively-mapped vision of regeneration opportunities across the North, and would deliver what the region, its people and economy need — more and better homes.
"With housing associations at the heart of new local delivery partnerships, our Plan is a roadmap for Government to unlock blockages and delays in housing delivery and shows how regeneration can interlock with key infrastructure and centres of growth.
"We know that housing will be a huge focus at the next election. This is a once-in-a-generation chance to rapidly increase the number of good homes being delivered while providing real opportunities for regional economic growth."
In the short-term, the Plan sets out how — with a supportive policy environment — the number of homes scheduled to be built in partnership with Homes for the North members the next five years could be trebled to nearly 10,000.
This could unlock £1.2bn of investment in construction and add £910m gross value to the UK economy. It would also provide a year's worth of work for over 13,500 people across the UK, with around three quarters of these in the North.
Joining up new homes with key infrastructure and other public goods, including investment corridors, Freeports, regionally significant transport projects, and centres of innovation, will also be essential to help regenerate Northern communities and boost the local economy.
Swing voters
There is clear political imperative for politicians of both major parties to support plans to accelerate home building in the North of England: private opinion polling commissioned by Homes for the North in 15 marginal Parliamentary constituencies across the North of England show that Northern voters do not share the NIMBY tendencies of their Southern counterparts.
A total of 65% of people say that there is too little affordable housing in the North, while 68% of those polled said they supported the building of new homes, and 64% of these saying they specifically supported the building of new homes near them.
There is also broad consensus that the Government, MPs, Metro Mayors, and councillors are doing too little to ensure enough high-quality housing is available in the North. Crucially, 64% of respondents said that a party's policy on housing will be an important factor in how they decide to vote at the next election.
Among swing voters that number rises, with 69% of those surveyed in marginal Northern parliamentary constituencies saying housing will influence who gets their support at the next election.