Glenigan, one of the construction industry's leading insight and intelligence experts, has released its widely anticipated UK Construction Industry Forecast 2024-2025.
The key takeaway from the November Forecast, which focuses on the three years 2023-2025, is the construction industry will continue to struggle in the face of a challenging economic climate. Particularly, restrained private sector investment, a housing market slowdown, weak UK economic growth, and high interest rates will continue to suppress sector activity for the remainder of the year.
Despite short-term woes, renewed construction growth is forecast for 2024 (+8%) and 2025 (+7%) as the prospect of a recovering economy and market certainty lifts consumer and business confidence, boosting the industry.
This report is predominantly focused on underlying starts (< £100m in value), unless otherwise stated, and contains a comprehensive overview of the current state of the construction industry.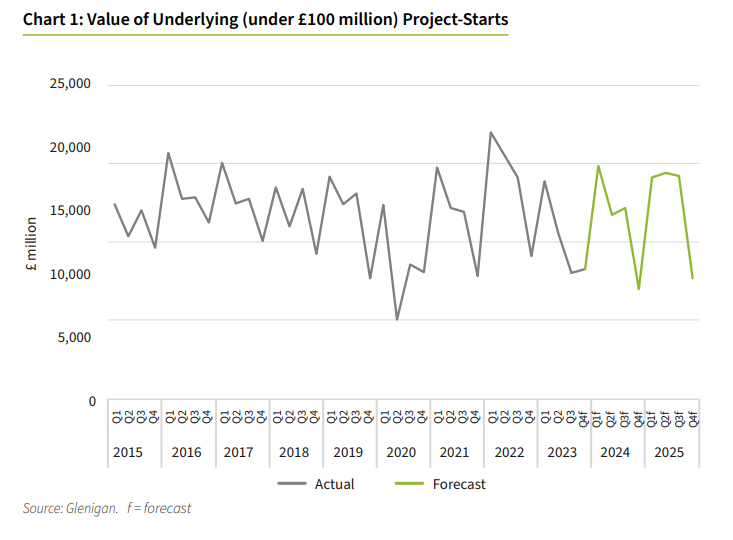 Sluggish economic conditions set to stall short-term growth
Construction starts have remained weak throughout 2023, with a poor economic outlook putting the brakes on work starting on-site. The fallout from last Autumn's mini-budget has weighed heavily on private sector activity, made worse by sharp interest rate rises in recent months.
The persistent economic disruption has prompted clients and developers to scale back on planned investments, causing detailed planning consents to fall back 10% during the first nine months of 2023. Main contract awards have also dipped, standing 11% lower during Q.3 2023 than the same time a year ago.
Glenigan predicts a decline across most non-residential sectors during the rest of 2023, with project-starts falling 20%.
Recovery on the horizon
It's not all bad news, with public sector construction providing a relative bright spot during 2023 as Government underspend was rolled forward to the current financial year, boosting departmental capital programmes.
Despite conditions remaining tough for the rest of 2023, gradual recovery is forecast for 2024 and 2025, with firm development pipelines already pulling through to support a rise in industrial and office starts. Improved consumer confidence and household spending are also expected to feed through to lift activity in consumer-related verticals, including private housing and retail. This is anticipated to have a knock-on effect on investment in logistics facilities from 2024 to meet demand for online retailing.
However, these positive predictions will likely be offset by declines in public sector investment in education and health as government-funded projects are reviewed post-election.
Social housing slowdown
High construction costs over the past two years have constrained development activity into 2023, with housing associations forced to reappraise the viability of new projects. Coupled with this, the slowdown in the private housing market has had a knock-on effect on social housing starts, resulting in fewer opportunities to take forward mixed tenure developments.
This has caused an estimated fallback in project-starts of 13% this year.
However, greater cost stability is anticipated to increase development activity over the next two years, lifting starts, with a 7% growth forecast for 2024, and 5% for 2025.

Commenting on the Forecast, Glenigan's Economic Director Allan Wilen said: "After sharp falls in starts and a challenging set of economic circumstances in 2023, construction can expect gradual improvement in market conditions over the next two years. Interest rates now appear to be at their peak, and a gradual easing in rates from 2024 should help to rebuild private investors' and homebuyers' confidence and lift private sector activity."
Allan added: "Higher construction costs are expected to constrain social housing starts for the duration of 2023, despite increased funding for affordable housing. Additionally, the slowdown in the private housing market will have a knock-on effect on opportunities for associations to move forward with larger, mixed-tenure, developments in partnership with other developers. However, growth is forecast to accelerate next year as housing associations press on with their development plans, while a brighter economic outlook should also increase the viability of mixed-tenure sites."
To request a copy of Glenigan's UK Construction Industry Forecast 2023-2025 click here.
2023 sees Glenigan celebrate its 50th anniversary, commemorating half a century of delivering the highest-quality construction market intelligence. To find out more about its services and expertise, click here.