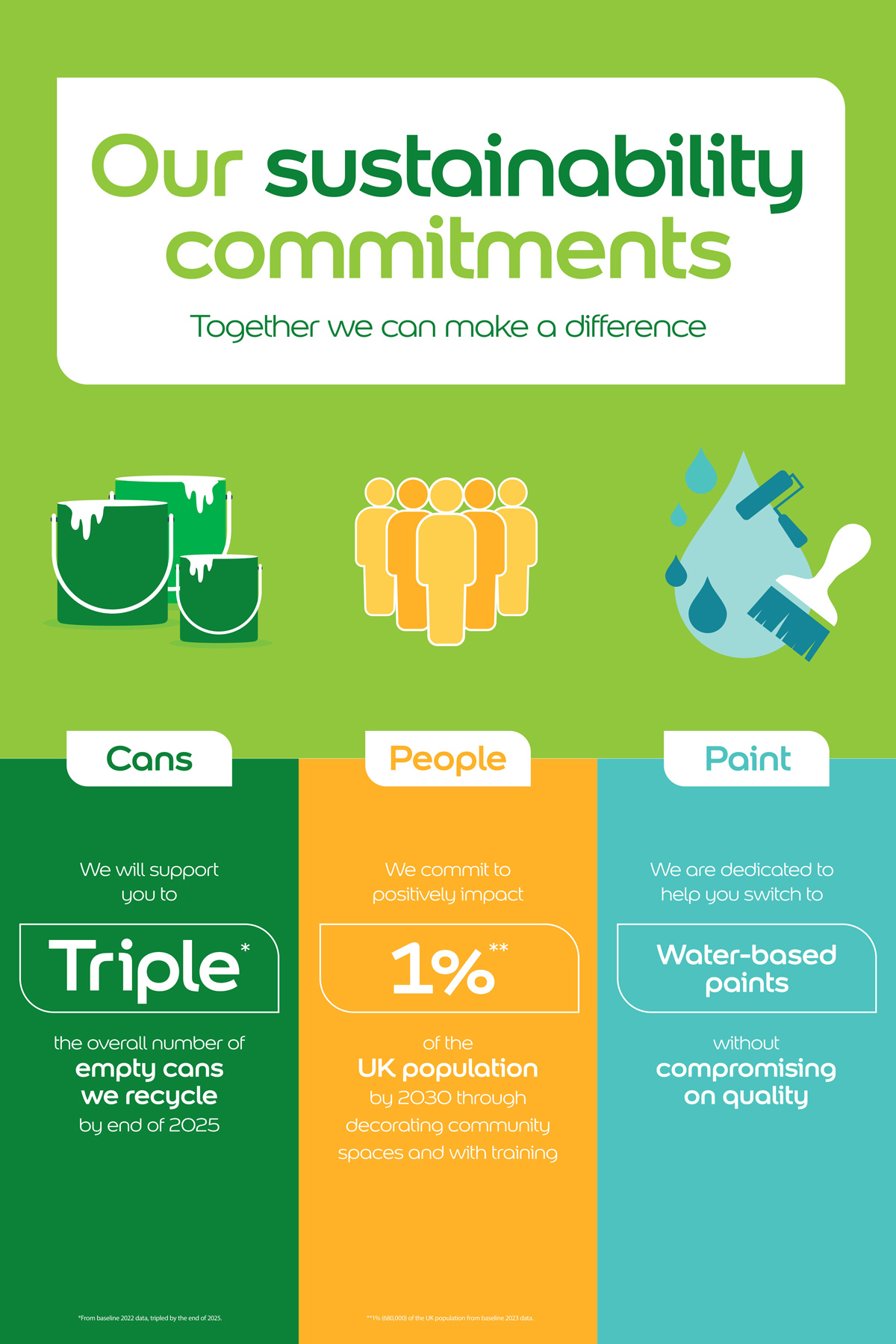 Dulux Decorator Centre has introduced new sustainability commitments as part of its ongoing pledges towards having a positive impact on people and the planet.
Its mission is to contribute to making the painting and decorating industry more sustainable by encouraging retailers, suppliers and tradespeople to help to reduce impact on the planet. The company is working to build sustainability into everything it does, helping to make a positive difference to individuals, businesses, and local communities.
The sustainability commitments focus on reducing waste and aim to help Dulux Decorator Centre customers improve the environmental credentials of their projects and benefit the communities they work in.
Cans — Dulux Decorator Centre will support the industry by tripling the overall number of empty cans it recycles by the end of 2025

People — Dulux Decorator Centre is committed to positively impacting 1% of the UK population by 2030

Paint — Dulux Decorator Centre is dedicated to helping its customers switch to water-based paint, without compromising on quality
Dulux Decorator Centre is aiming to triple the overall number of empty cans that it recycles by the end of 2025[1]. Currently, the vast majority of empty cans are not returned to Dulux Decorator Centre for recycling and many of these either end up being burnt for energy recovery or some sadly end up in landfill.
Last year, Dulux Decorator Centre reached the one million milestone for recycling paint cans. The free of charge recycling scheme (in partnership with Veolia) makes it easy for tradespeople to dispose of empty Dulux Trade paint cans.
In addition to this, Dulux Decorator Centre has been working closely with Community RePaint, a social enterprise that Dulux has been sponsoring for the last 30 years. This UK wide paint reuse network collects leftover and mis tinted paint and makes it available to local charities, community groups and low-income families, therefore reducing the amount of paint that is sent to landfill.
Duncan Lochhead, Commercial Sustainability Manager at Dulux Decorator Centre said: "We know that sustainability is increasingly important for our customers and the clients they serve. As one of the leading paint merchants in the UK, we have a duty to help contribute to the reduction of the industry's environmental impact as much as possible.
"We want to 'close the loop' by making it easier for paint tins to be recycled, so that the metal and plastic from our cans can be reused in the future. We are also backing the next generation of talent in the industry, giving young people access to painting and decorating training, as well as investing in local spaces that are the cornerstone of communities across the UK."
People and communities are a further crucial element of sustainability and Dulux Decorator Centre wants to support people through challenging times and provide opportunities to the next generation. With this in mind, Dulux Decorator Centre has also committed to positively impacting 1% of the UK population — or 680,000 people — by 2030 through decorating community spaces and training.
An important element of this is Dulux Decorator Centre's support of the Volunteer It Yourself (VIY) scheme. VIY challenges young people to learn trade and employability skills, working with 14–24-year-olds who volunteer to carry out essential repairs and improvements to youth and community facilities. With the help of professional tradespeople who mentor the young volunteers, the social enterprise has already worked with 13,000 young people who are not in education, employment or training, across more than 700 projects since 2011.
Dulux Decorator Centre is supporting VIY by selling paint stirrers and tin openers in all its stores. Every purchase made will contribute towards young people gaining City & Guilds accreditations in Painting & Decorating.
In addition to its commitments, Dulux Decorator Centre is also making strides to increase the amount of water-based paint sold through its 230+ stores. It aims to make the switch over to more sustainable products as easy as possible for customers, especially for trim paints used on wood and metal. Dulux Decorator Centre is also moving all its high-volume wall paints over to 99.9% VOC-free (Volatile Organic Compound) with the new improved Dulux Trade Diamond Matt being the latest formulation to change***.
For more information about Dulux Decorator Centre's sustainability journey and lower impact products, visit: https://www.duluxdecoratorcentre.co.uk/our-sustainability-story.
* Building Research Establishment Environmental Assessment Methodology
** Leadership in Energy and Environmental Design
*** Based on in-can VOC content, measured in accordance with ISO 11890-2:2013
[1] From baseline 2022 data — tripled by the end of 2025.