Taylor Lane Timber Frame was appointed timber frame supplier for the New Model Institute for Technology and Engineering's second site, Skylon, situated in the heart of Hereford's Enterprise Zone. The Skylon campus is an exemplar of timber technology and design, with biophilic principles at its core. Here, Paul Harris, Contracts Director for Taylor Lane Timber Frame, discusses the use of timber in the project.
Modern methods of construction (MMC) have been a major focus of government policy in recent years. Many believe that adoption will increase output through speed of construction, compared to traditional build methods, and improve build quality using factory-based precision.
Currently, the biggest challenge is growing the industry. Like much of the construction industry, the MMC sector is suffering a skills shortage. It is hard to accelerate growth when skilled labour falls short. New talent must be trained while the skills of existing workforce must be developed. During which time, businesses may require support from the Government and industry bodies.
While the former Minister of State for Housing and Planning announced a series of interventions to boost the sector in June 2023, and funding is available through initiatives such as the Levelling Up Home Building Fund, the MMC industry has a way to go before it can deliver the required volumes.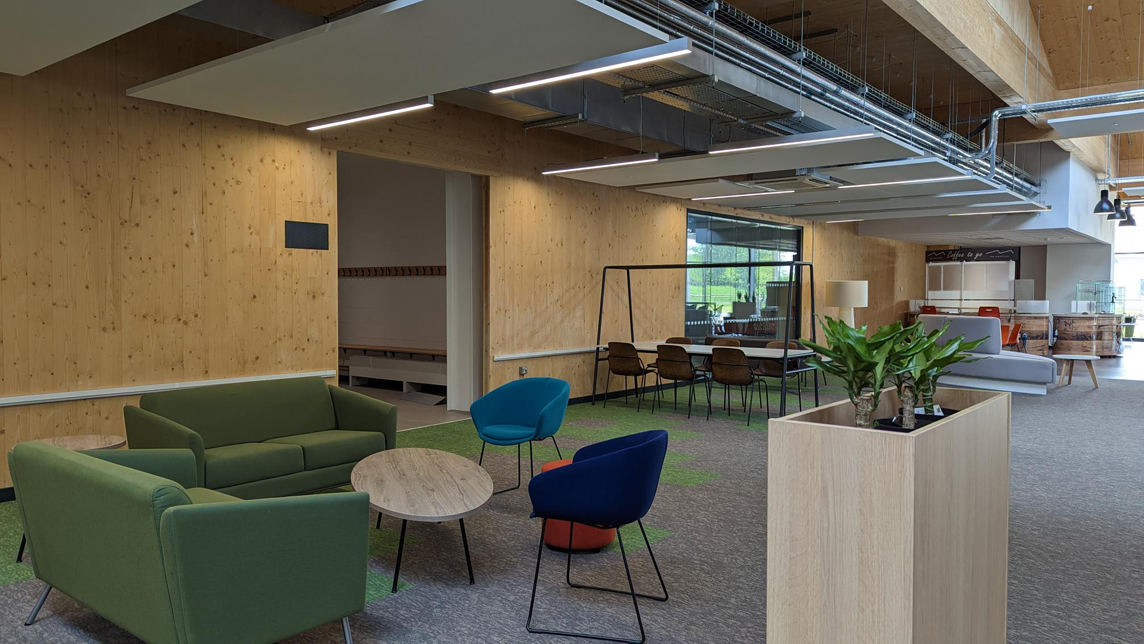 Grassroots Training at NMITE
Long-term of course, there are solutions. One of which is grassroots training, something which is being addressed by the New Model Institute for Technology and Engineering (NMITE) in Herefordshire.
NMITE describes itself as '…by design, a (politely) disruptive game changer!'. Why? Well, to get started they hired 31 young people known as the Design Cohort to help them design NMITE. The result is a higher education facility designed by students, for students.
One of the elements supported by the Design Cohort is the design of learning and living spaces. Today, we are more attuned to the importance and impact of learning in a healthy, comfortable, and stimulating environment. NMITE has taken this one step further with its second site, Skylon, completed by main contractor, Speller Metcalfe ahead of the 2022/23 term.
Situated in the heart of Hereford's Enterprise Zone at Skylon Park, NMITE's second site is an exemplar of timber technology and design, with biophilic principles at its core. The hybrid structure built using a combination of timber and steel is designed to educate Centre of Advanced Timber Technology (CATT) students — all future MMC engineers, manufacturers, installers, and innovators! It is a purpose built 2,500m2 'living lab' acting as an exemplar in a region aspiring to net zero carbon targets.
Timber frame supplier
As the appointed timber frame supplier, we were selected by NMITE to demonstrate this modern method of construction in the hybrid structure. Using a selection of non-standard materials specified by NMITE we constructed 20 insulated wall panels at our factory, located a stone's throw from Skylon. The panels range in width from 250 to 2,400mm, and 4,100mm high.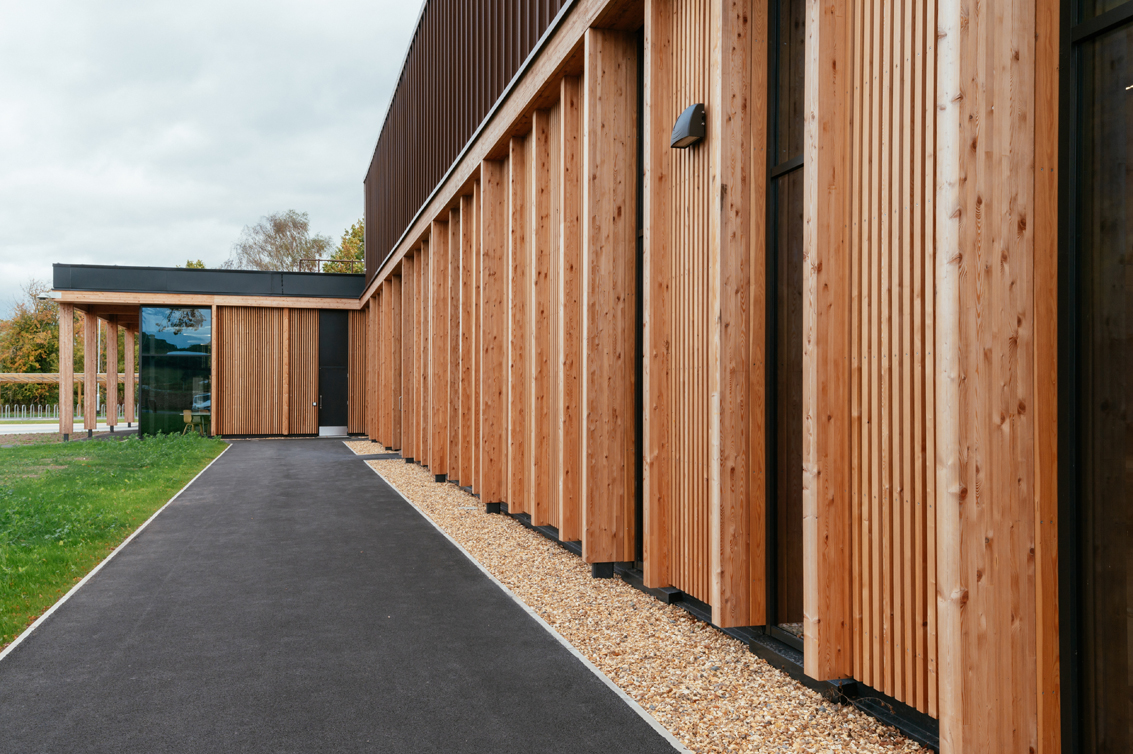 Tricky panel installation
The insulated panels were installed over two phases; one 53Lm run, and another measuring 33Lm. The glulam structure including the roof element, and Cross-laminated Timber (CLT) frame were already in position, which meant we had to crane the panels in and around an already constructed structural frame. This was tricky and took careful consideration, devising a suitable method of work and appropriate access equipment.
The panels sit on a glulam soleplate. We used 240mm I-joists rather than solid timber floor joists to avoid cold bridging and maximise thermal performance. Each panel is fully filled with 240mm Knauf Insulation OmniFit 35 slab, a glass mineral wool slab that provides excellent fire, thermal and acoustic performance. 9mm OSB is fixed to the front face of all 20 panels. For educational purposes, 11mm OSB is used on the inside face of the panels fitted in phase one, and 11mm flame retardant (FR) OSB for the remaining panels installed in phase two.
Some panels are attached to the CLT frame and others to steel, which allows us to show a variety of fixing methods.
Observation panels for learning
We had to be mindful of the fixing positions as some of the construction components are left visible for the CATT students to observe. We also concentrated on the panel's aesthetics, ensuring the breather membrane (A. Proctor Facadeshield UV) wasn't damaged during construction, for example.
To allow for the right components to be visible in the right locations, we had to work within very tight tolerances. The panels sit in front of the glulam, clipped to brackets. Obviously, this required precision spacing, slightly out and it would impact the whole run, hindering the observation panels and exterior cedar wood cladding.
Taylor Lane's panels were used for one L-shaped section of the building, opposite is another timber construction method. Working to the client's tight timescale, Taylor Lane completed a phased installation, erecting the panels in around six days in total.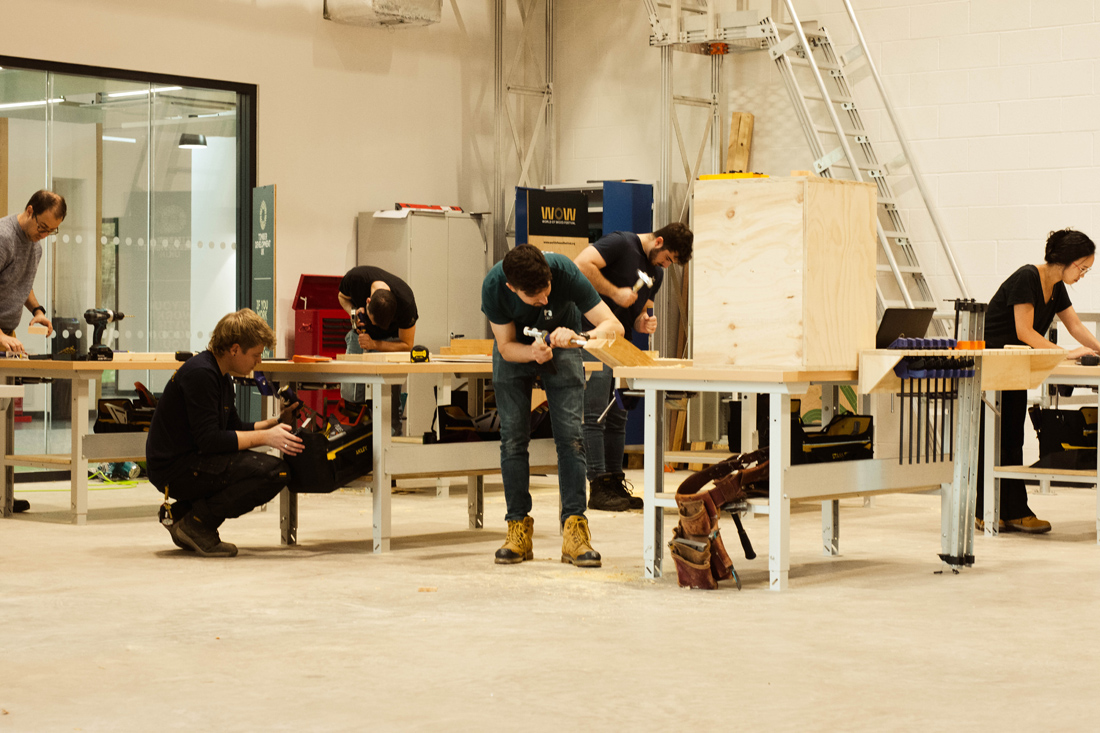 Rewarding career in timber
NMITE is home to the Centre for Advanced Timber Technology (CATT) with a strategic mission set by industry to "stimulate collaboration across the industry together with showing a wider audience how rewarding a career in timber can be."
The first intake of Centre for Advanced Timber Technology (CATT) students was in September 2022 on the Timber Technology Engineering and Design short CPD courses. These courses are blended courses composed of online distance learning and on-campus challenge sprints.