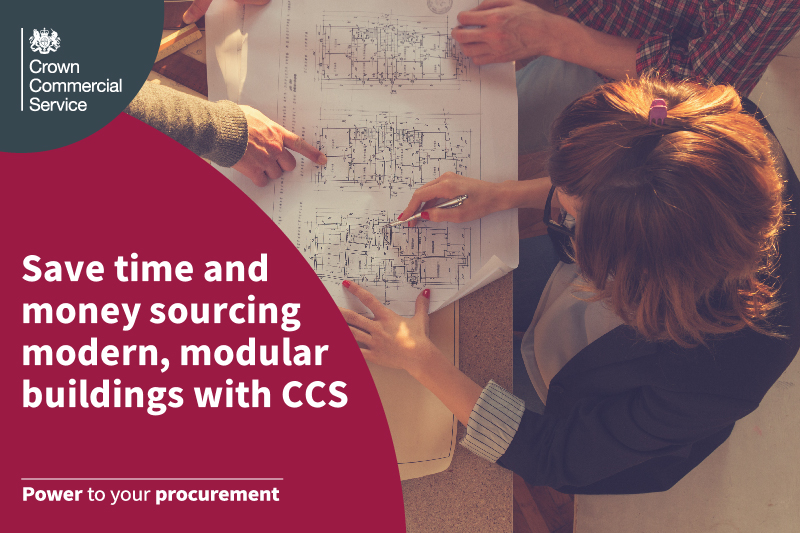 Crown Commercial Service: Reasons to think modular first for your construction projects.
Demand for building projects across the UK is rising, however with funding at a premium, those tasked with designing and delivering projects face tough decisions.
Modular buildings offer a cost-effective and less disruptive alternative than traditionally constructed buildings. They can be designed and manufactured to fit your local authorities unique requirements and are adaptable for a wide range of projects such as a standalone classroom, a row of terraced housing, a block of flats or a complex office block with common areas and plant rooms if required.
Today's modular buildings have evolved significantly over the last few decades. Today's clean, linear buildings offer cheaper, bespoke solutions, minimum material wastage and lower energy bills — a far cry from the draughty school huts many people imagine. Here are some reasons why you should rethink modular buildings and consider them for your next construction project.
Sustainability
Modular buildings can reduce your carbon footprint too; 67% less energy is used in creating a modular build versus its equivalent traditional build. Modular
buildings are commonly created from recycled materials and minimises disruption to existing environment.
Problem solving
Modular buildings are constructed 50% faster than traditional builds, on average. Many can also be easily expanded, relocated, refurbished, and reused — perfect for solving any problems you might not have budgeted for. Prefabricating the building in factory conditions indoors increases quality control and removes the constant threat of the Great British weather creating hold-ups, helping you to deliver projects on time and with less defects.
Health and safety
Reducing the danger of traditional building sites by manufacturing your buildings in controlled settings is a big plus point for local authorities, especially when building in residential areas where the safety of children and residents is paramount. Having your modular buildings created offsite, where safety measures can be monitored more effectively, lowers the risk of accidents.
Speed and efficiency
As much of the work is done in advance and offsite, your construction site will be minimal, creating less disruption for everyone concerned. Any problems that occur during the construction process can be easily solved by the team of experts during the manufacturing process, which  means less work and disruption when they arrive. Timescales are radically reduced in comparison to traditional construction, due to onsite activities, such as groundworks, taking place simultaneously as the building is manufactured offsite.
A simple, low cost way to meet your modular requirements
Crown Commercial Service has designed its Modular Building Solutions with local authorities in mind. There are 19 suppliers listed as part of this framework, including suppliers who specialise in provision for healthcare and education as well as suppliers who can provide buildings for a range of purposes including residential homes. This framework is the perfect way to meet the needs of your local population while ensuring both speed of delivery and value for money.
Crown Commercial service is here to help
CCS is an Executive Agency of the Cabinet Office, supporting the public sector to achieve maximum commercial value when procuring common goods and services.
Find out more about modular building solutions on the CCS website, or download our latest digital brochure for more information on how CCS can help your construction procurement requirements.